After spending most of my adult life tinkering with foreign cars, and quite a few years with rotary powered cars, it occurred to me that I never owned an American muscle car or anything else with a high powered V8.  As much as anything, I think I just wanted to own a car that sounded like a hot rod.  I had always been modifying cars to improve handling and braking, but never was interested in brute power.  After owning several early style RX-7s, I decide to build one with a V8.  The engine compartment is roomy, the chassis is pretty strong, and I fit comfortably in the interior.  I found a really nice 1984 GSL (4 wheel disc brakes, limited slip diff, deluxe interior) with only 60,000 miles and a dead motor, with automatic trans.
I consulted with my friend Robert, who got me interested in Mazdas years before, and who was an experienced racer and car builder, about the issue of automatic versus manual trans, and he said "With a V8 in that light car, there will be times when you will want both hands on the steering wheel.  Go with the automatic."   I chose the Ford 302 because it is about 75 pounds lighter than the small block Chev, and the distributor was in the front where anyone with common sense would want it.  I bought a donor car with the engine and an AOD  overdrive trans, and rebuilt both the engine and trans.  I went through the routine of trying to educate myself enough to pick the right cam, pistons, timing set, carb and intake, and then spent months trying to get it all to play together and run smoothly.  If I had it all to do over, I would buy a wrecked Mustang GT or Camaro Z28 and transfer everything, including the wiring and fuel injection system.
I used a stock RX-7 crossmember, modified the mounts to carry the Ford motor mounts and then had to modify the oil pan to clear the crossmember and steering .  The trans mount was pieced together with Ford and Mazda parts.  I bought a pair of Hedman headers and my friend Sean O'Brien modified them and made a Y-pipe into a 3 inch single exhaust.  These early RX-7s do not have room for a dual exhaust system unless you are willing to give up quite a bit of ground clearance.   The headers were ceramic coated, and still looked like new when I sold the car about 9 years later.   I  used a Ron Davis aluminum radiator, which I got from Granny's Speed Shop.  The trans cooler and air filter are located in front of the radiator.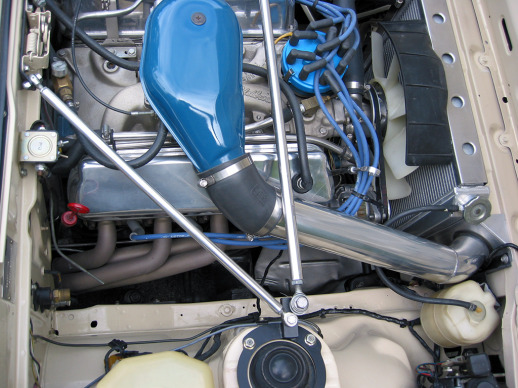 I used an Edelbrock 600 carb and intake manifold, and fabricated a custom air box for the carb.  The hood would not quite close over it, so I adapted the hood bulge from a damaged 280Z hood to get some clearance.  No fiberglass parts for me – steel is real!  The strut tower brace is made from solid aluminum rod, threaded for Heim joints at both ends.  The fan is a stock RX-7 plastic fan, directly driven (no viscous drive).
An example of the many custom details on this car is the thermostat housing, which was fabricated from pieces of the Ford and Mazda housings, orienting the outlet to simplify the hose routing, with a single 90 degree bend in the upper hose.
The stock Mazda alternator was mounted on a custom bracket, and the temp and oil pressure sensors were adapted to the Ford motor.  I used a writeup from Granny's website to modify the tachometer to work with the V8.  A custom adapter gearbox was installed in the speedo cable by Tacoma Speedometer.
After driving the car for a while I realized I needed better brakes.  I looked at the brakes on a 1990 RX-7 convertible – 11 inch vented rotors front and rear, 4 piston aluminum front calipers, obviously high quality, and working very well on a 3200 pound car.  My RX-7 weighed 2650 with the V8.  I  spoke with Racing Beat, Mazda Trix and other sources, and they knew of no one who had adapted these brakes to a first generation RX-7.  After some consultation with my machinist, we figured out how to do the conversion with only a few parts, a caliper bracket and some bushings for the inboard bearing in the front and a caliper bracket and handbrake cable adapter in the rear.  I installed these parts, which have a 5 on 4.5 inch bolt pattern, and installed a set of  the BBS 15 inch alloy wheels from a 1990 RX-7 convertible.  I was very impressed with the stopping and cornering power from this conversion.  I wrote up a detailed description of what I had done, posted it on the RX-7 forum, and within a couple of years, kits magically appeared on the market, to do this swap.  The only difference from our scheme is that the kits combined the two bushings for the front bearing and grease seal into a single part.  My machinist had a good laugh, and said he would not make the parts for twice what the kits were costing.
I drove this car for about 9 years, had a lot of fun with it, then sold it, only because I had too many cars and not enough garage space.  The local Mazda dealer service manager drove it and told me it was the nicest first generation RX-7 he had seen in years, not considering the engine swap.   Shortly after selling it, I did a Nissan Skyline engine swap in my other RX-7, described elsewhere here.