In March of 1981 I went to a salvage auction and bought a 1980 Ford van which had been rolled over.  It had only 3,000 total miles, the roof was badly smashed, but there was no suspension or chassis damage. I cut it off behind the driver's door and grafted on the rear section of another van that had front end damage.   This gave me space for five people and room for a  flatbed.   I used the cut-down remains of the original van body as a sort of crude pickup box while I was building my house and shop.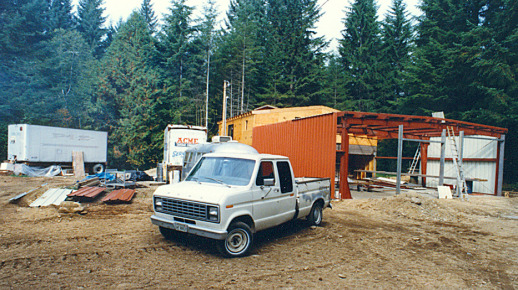 Once I was moved into my house and able to use my shop, I removed the remains of the old van body and built an 8 foot flat bed.  My friend Robert, who is an experienced tow truck driver, suggested I cut off the corners of the flat bed to allow for turning, like a typical tow truck.  He also suggested I make the bed raise and lower hydraulically so I don't have to lift heavy items so high to load them.  I used a four way electric/hydraulic unit, power up and power down for two functions, one for the suspension and one for the dump.  I used two hydraulic cylinders for the dump and one for the suspension.  I suppose someone somewhere has done what I did, but I have never seen it, so I claim it as an original idea:  The rear spring shackles are supported by arms that are raised and lowered by a torque tube that runs across the back end and is driven by the single hydraulic cylinder.
I built an old fashioned tow sling that mounts on a vertical tube and pivots for turning. I can lower the suspension, tilt up the bed and this lays the sling on the ground.  I can chain up to a car and lift it without a winch. I finished this in 1990, and have probably towed a car about 3-4 times a year since then, only for myself or my family.  This is only a 1/2 ton chassis, so I put an extra main leaf in the rear spring – handles cars up to about 3000 pounds with no problem.  I never tow anything heavier than 3,000 pounds.
This was a cargo van and had a very austere interior.  I installed a set of plush velour front and rear seats from an Audi 5000 sedan and finished it off with matching velvet and carpet. When I go to the dump or haul a load of scrap metal, I go in style.
More recently I built a rig that mounts on the back and carries the Stiletto.  It includes a small electric winch and fittings for three ramps.
This truck has a total of 99,000 miles and certainly has paid for itself .  About 15 years ago I installed a freshly built 351 V8 engine, which has about 300 horsepower.  The original 302 was still  running, but I just wanted more power when towing and hauling a load. I now drive it about 1000 miles a year.  Because it is built from a van, it does not have that long nose in front like a pickup.  Consequently I have a plush, comfortable 5 seat car with an 8 foot flat bed that is also a dump truck and a tow truck, with the same wheelbase and length as a standard pickup.  And it gets 22 miles per gallon – that is 10 around town plus 12 on the highway!